Nguyen Trai nurtured a great ambition in chaotic Dong Quan Citadel
Nguyen Trai was born in 1380 in Thang Long. He was the maternal grandson of Tran Nguyen Dan and the son of Nguyen Phi Khanh, highraking mandarins under Ho Dynasty. At the age of 20, Nguyen Trai passed the PhD in the first examination under the Ho Dynasty. After that exam, Nguyen Trai was appointed as Court Counsellor Chief, working in Tay Do (Western Imperial City under Ho Dynasty in Thanh Hoa Province). Thus, both Nguyen Trai and his father were mandarins under Ho Dynasty. This is very special.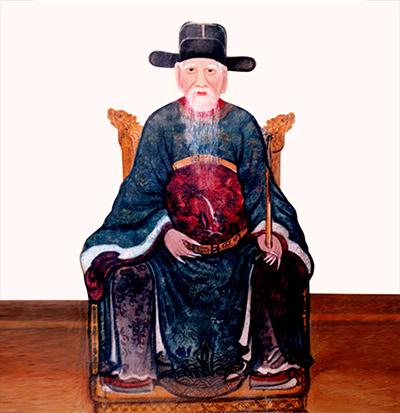 Nguyen Trai
In 1407, Ho Dynasty was defeated by the invading army of Ming Dynasty. The King and mandarins under Ho Dynasty were arrested, including Nguyen Phi Khanh. Nguyen Trai and her brother Nguyen Phi Hung then escorted his father to Chi Lang. Nguyen Trai and his brother wanted to follow their father to China to take care of him, but Nguyen Phi Khanh did not want to. He wanted the two children to go back and find the way to take revenge. Nguyen Trai and his brother reluctantly obeyed.
At the time Nguyen Trai returned to Dong Do (Eastern Imperial City), the Ming had changed the name of the city to Dong Quan. Nguyen Trai was captured by the enemy general Truong Phu who wanted to kill him to prevent aftermaths. Luckily, some mandarins pursuaded the general to buy off Nguyen Trai instead of killing him. Afterwards, Nguyen Trai was under house arrest in the south of Dong Quan. Ming Dynasty promised that if he agreed to serve the Ming, he would be given a comfortable and prosperous life. However, he tacfully refused and chose the poverty lifestyle in a hut. During this time, he witnessed the cruelty of the Ming invaders such as looting, women rape, civilian killing, capture of patriots and other countless cruelty.
Living among invaders, every day witnessing the crimes they caused to the people, Nguyen Trai seethed hatred. Then he and some of his trusted friends with the same sense of purpose sought to escape from the control of the Ming aggressors. They escaped successfully. On his way out of the citadel, Nguyen Trai also witnessed deaths and grief, caused by the Ming invaders for our people. The resentment inspired him to take action to wipe out the invaders. After a long time travelling and contemplating, in the end, Nguyen Trai completed the workd "Binh Ngo sach" (strategy to defeat the Ming invaders), specifying 3 strategies to eliminate invaders.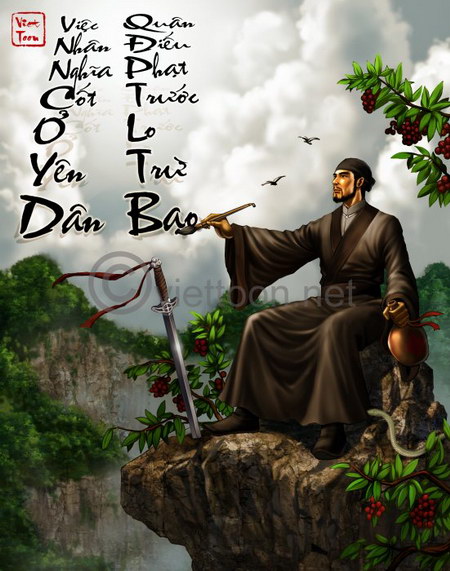 On his way, Nguyen Trai heard that in Thanh Hoa, Le Loi was gathering forces to rise up. Nguyen Trai sought to Lam Son (Thanh Hoa province), where Le Loi was finding the strategy to defeat the Ming invaders, and presented "Binh Ngo sach". Le Loi had heard about Nguyen Trai. After listening to Nguyen Trai presentation of his strategies, Le Loi showed his love and trust to Nguyen Trai. So Nguyen Trai was often invited to the discuss big decisions.
With the great help of Nguyen Trai, Lam Son insurgent army led by Le Loi won landslide victory, making the Ming army horrendous. Vuong Thong had to leave Dong Quan and surrendered to withdraw the military survivals to his country.
After sharing many great difficulities with Le Loi, Nguyen Trai helped found the Later Le Dynasty. Unfortunately, at the end of life, he was involved in the injustice case of Le Chi Vien and his three generations were executed. 22 years later, in 1464, the grievance was resolved by the 4th king of the Later Le Dynasty, namely King Le Thanh Tong. Then, King Le Thanh Tong sent for descendants of Nguyen Trai who had to flee from the injustice and apointed them mandarins, considering this as a way to atone for the great meritorious mandarin.