Bai Men archeological site
Bai Men archeological site (Co Loa commune) located in a high ground near Hoang Giang river, about 1 – 1.5m higher than the rice field in the South-east of Co Loa citadel. Bai Men is about 1.5km far from Tien Hoi archaeological site and borders Dinh Trang archaeological site in the North.
According to Co Loa historical researcher, Bai Men archaeological site is extremely important in the system of archaeological relics in Co Loa in general or pre-Co Loa periods in particular. The research in Bai Men provided an overall view of Co Loa before being chosen to build capital by the King An Duong Vuong.
In September 1959, after discovering Cau Vuc warehouse of arrows, Department of Preservation and Museum has conducted investigations in the area around and discovered Bai Men relics.
The first excavation of Bai Men archaeological site carried out by the Institute of Archaeology in collaboration with the Hanoi Department of Culture with the area of ​​200 m2, including two pits, 100 m2 each.
Stone chisel: Excavated in Bai Men – Co Loa-Dong Anh – Hanoi, Date: 3000-3500 years ago.
This was followed by three other excavations, which was conducted by the Institute of Archaeology, Management Board of Hanoi Relics and Lanscape or Faculty of History under Hanoi University.
According to Co Loa Geography, the total area of four excavations until 2003 is 850, 50m2. The first two excavations showed that the strata in Bai Men archaeological site is identical: the surface layer is 20 – 30cm thick interbeded with gravel, stone, brick, piece of terra-cotta or porcelain and under it is a light-yellow layer, the cultural layer is black, uneven, 30cm or 200cm. Objects in the undermost layer of cultural layer  are raw pottery, stone chisel, tile, tegular and a bit brick (Co Loa pottery). In general, tegular and brick are never under raw pottery, stone chisel. At the wall eastern of the pit II (first excavation) there is a black soil strip 4m long, 1 – 3m wide and 2.05m deep containing broken tegular without raw pottery.
Although there is a doubt about the existence of Co Loa pottery in the upper layer the archaeologists who took part in the first two excavations affirmed that Bai Men is an archaeological site with its cultural layer of Dong Dau's human habitation.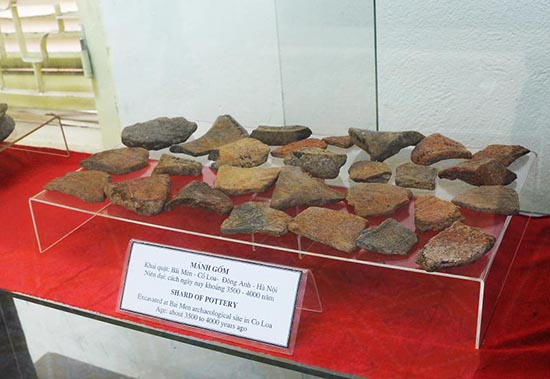 The exploration pit excavated in July 1997 has the same strata of the previously excavated pits but the cultural layer is divided into 2 layers: latter Dong Son layer (Co Loa layer) is over Dong Dau cultural layer.
The objects collected from 3 excavations in Bai Men archaeological site: 362 stone objects, among them are 222 production tools, making up 68.09% including 39 objects including chisels,  chocks, jewelry, making up 12% and other 65 specimens accounting 19.93%.
There are not many copper objects, only some 38 objects including axes, coins, arrows… There are 91 objects made of raw pottery, terra-cotta accounting 19.73% and 9,627 pieces of pottery including 3,899 pieces of Co Loa pottery. Pottery in Bai Men archaeological site distributed quite evenly. In the lower layer is mainly raw pottery. In the upper layer is mainly Co Loa pottery, raw pottery of late period is of minor quantity.
The excavation and study results showed that Bai Men is a habitat site with its  cultural layer 1m thick containing the vestige of 3 developing phases. First phase corresponds to the last cultural layer – habitation layer of latter Phung Nguyen habitants. Second phase corresponds to the middle cultural layer – habitation layer of latter Dong Dau habitants and funeral in Dong Son age or Co Loa period.