Noi Hau – the hero under King An Duong Vuong dynasty
Thuc An Duong Vuong's reign, beside high citadel, deep trench, good weapons, An Duong Vuong had talented generals and nonpareil patriotic citizens. Beside Cao Lo (Bac Ninh), An Duong Vuong also has Noi Hau.
According to the stories of the gods of Chiem Trach village (Co Loa), Noi Hau known as small Noi of earthen pot worker in Canh village (at present, Tam Canh, Huong Canh, Binh Xuyen, Vinh Phuc) named Dao Hoang. From his child, Noi was very intelligent, good at martial arts, good at wrestling in the area. When An Duong Vuong opened the martial art contest to select talent against the enemy, the villagers celebrated Noi and funded for him to attend the contest. Noi won the prize and was appointed to be a general in Au Lac court.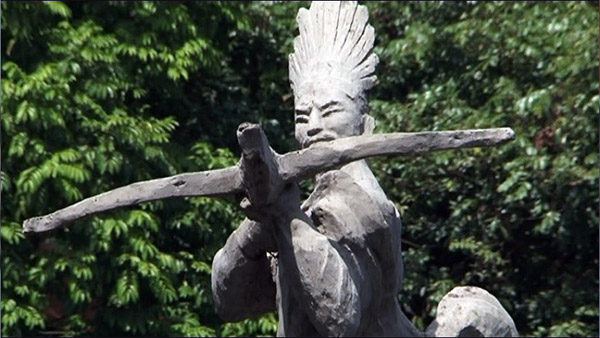 Noi Hau was appointed by An Duong Vuong to be a mandarin of Au Lac country with the marquis. Then he got married to an orphan girl in the village and they had two sons. He and his two sons, Dong Vinh and Ly Vuc, became military mandarins in the court.
When the war against Trieu's reign occurred, in addition to the regular army provided by An Duong Vuong, Noi Hau also mobilized a large number of villagers to  involve the fight.
After occupation of Co Loa, Trieu Da ordered some people to go to Chiem Trach village to seduce Noi Hau and his sons by fame. Noi Hau refused such seducement. He and his sons scolded loudly that Trieu Da was a betrayer. Mr. Noi also expressed anger when he did not slash the enemy's head to avenge the king Thuc. He never was a servant for the country robber. When the bribery was not successful, Trieu Da brought his troops to surround Chiem Trach village. Noi Hau and his two sons and the villagers resisted fiercely the Trieu's military troops, but the invaders were overcrowded. No let the enemy capture, he and his wife draw knives to suicide, his two sons also suicided, they resisted resolutely the enemy to the last breath.
The four people of Mr. Noi's family were buried by the villagers in the hillock area outside his village, close to the dike of Duong river. The temple has been set up by two villages Ngoc Chi and Vinh Thanh.