Hung King's Temple – Origin point of the the nation
Hung King's Temple heritage located in Co Tich hamlet, Hy Cuong commune, Viet Tri city, Phu Tho province, the place to worship the Hung Kings who are the first founder of the country, the ancestors of the Vietnamese people. In the old days, this land is the center of Van Lang's capital, lies between two rivers as the  two natural ramparts surrounding the ancient imperial city of the Hung Kings and high mountain ranges in the East. There were many rivers, lakes, hills and mountains and fertile fields raised by the two rivers, convenient and favorable for both people's living and defense or withdrawal in case of tribal conflicts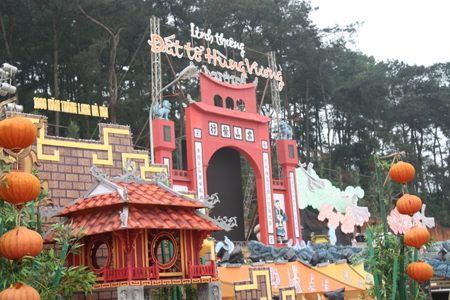 Currently, traces of habitants residing under Hung Kings dynasty have been reflected by dozens of archaeological sites, densely distributed from Lam Thao district to Bach Hac – Viet Tri confluence. Such archaeological sites are the evidence of an age with copper metallurgy industry and wet rice cultivation of agricultural civilization which has been existed for thousands of years B.C.
Hung King's Temple is the center, focus of Hung Kings age, the temples for worshiping Hung Kings located on Nghia Linh mountain (also known as Ca mountain by local or other names: Hung mountain, Hy Cuong mountain) at the elevation of 175 meters above sea level. This land area used be a tropical jungle and today Hung mountains is still a natural forest with different generations of trees including 150 species of plants belonging to 35 families, there are some great and old trees such as: banian, pine, cycad, parashorea…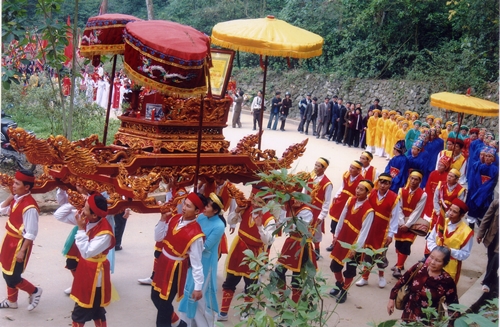 From a distance, Hung mountain looks like a head of a big dragon heading towards the South, its body  winding into Troc mountain, Van mountain and Pheo mountain. Behind Hung mountain are the big hills close together about 10km like a herd of elephants heading to the land of ancestors, in front of Hung mountain is Bach Hac crossroads with the confluence of the three biggest rivers in the North: Red River, Lo river and Da river which all make an immense waters from which are low hills like a flock of turtles stepping towards Nghia Linh. ..In the far East is innumerable Tam Dao range (Mother mountain), in the South is sky-high Ba Vi range (Father mountain) gathered. Close to Hung mountain are hills like phoenix (Tien Kien), tiger prostrating (Khang Phu – Chu Hoa). Imposing and spectacular landscape and position full of brave soul of mountains and rivers. Standing on the high peak of Nghia Linh we can see all of an immense area impressed by charming beauty of mountains and rivers. Legend has it that Hung King traveled a lot and found this place as fitting of his capital.
History of Hung King's anniversary
"Not matter where you go
Remember come back on 10th of 3rd lunar month
Everybody knows that song
The country is ours thousands of years"
That folk-song full of affection and gratitude and strong love has been in the heart of each Vietnamese person from generation to generation. For thousands of years, Hung King's temple is always a symbol of respect, honor and supernatural power closely and strongly attached with Vietnamese people.
In the old days, Hung Temple festivity has a special position in the minds of the Vietnamese people. The noble family annals of Hung Vuong (1470) has recorded that "From Dinh, Le, Ly, Tran dynasties then now Hong Duc Hau Le – our new dynasty, Vietnamese people burn incense in the temple in Trung Nghia village (Co Tich), where people around the country come to worship, commemorate the sacrifice and services of the ancestors ".
Until Nguyen dynasty in the 2nd year of Khai Dinh (1917) Le Trung Ngoc – Province Chief of Phu Tho submitted to the Ministry of Rites that March 10th of lunar year as the National Day (one day before the Hung Kings anniversary and the local people worshipped on March 11th of lunar year).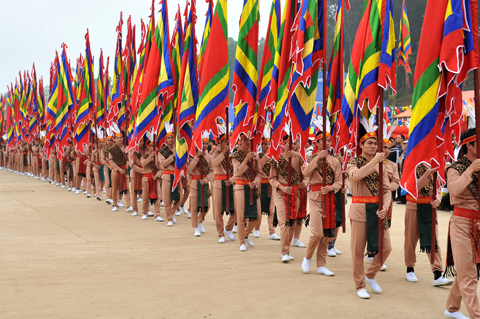 After the August Revolution (1945), our Party and State have given due attention to Hung King's Temple, President Ho Chi Minh and the Party and State's leaders visit it every year.
The Decree No. 82/2001/ND-CP dated 11/6/2001 issued by the Government regarding national ceremonies and reception of foreign guests stipulates that:
In even-numbered years (the year with the last digit is 0) the Ministry of Culture and Information and the Provincial People's Committee hold festival, invite the representatives of the Party, State, National Assembly, Government, Vietnam Fatherland Front and mass organizations and unions to participate in the thurible.
Round year (the last digit is 5) provincial People's Committees  festival, hold festival, invite the representatives of the Party, State, National Assembly, Government, Vietnam Fatherland Front and mass organizations and unions to participate in the thurible and organize the festival activities.
—————————————————————————————–
Co Loa – Hung King's temple Tour
Co Loa – Hung King's temple Tour departs from Hanoi at  06h00 and arrive in Hung King's temple at 09h30.
Here, the guide will introduce for the visitors about Hung Kings, Princess Tien Dung, Mi Nuong, Prince Lang Lieu with the legend of banh chung and banh day….
After that, the visitors will visit Ha Temple, Trung Temple and Thuong Temple, Hung King's Tomb and finish at Gieng Temple.
About 13h00, after luch and a short rest, visitors will be guided to visit Co Loa Citadel with My Chau shrine, Ngu Trieu communal house, Ngoc well and the tour finishes at about  16h00 to come back to Hanoi.