Trieu Viet Vuong whose real name was Trieu Quang Phuc, was a leader of our country from 548 to 571. Trieu Quang Phuc was born in the eternal  village notable family of Chu Dien region. In 542, Trieu Quang Phuc followed his father Trieu Tuc who led his troops to join the revolt of Ly Bi. After victory of the revolt, Ly Bi self-proclaimed King Ly Nam De and established Van Xuan state, Trieu Quang Phuc was appointed to hold the position of Military general.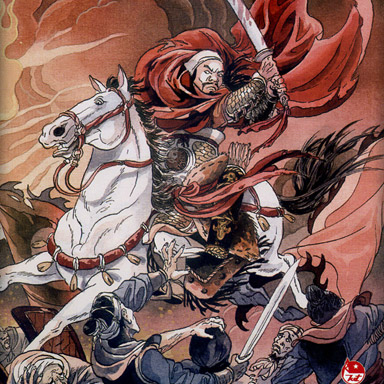 Van Xuan state of Ly Bi was only quite peaceful for one year, in the summer of 545, Luong's troops launched an offensive to conquer. Luong dynasty appointed Duong Phieu to hold the position of governor of Giao Chau, Tran Ba Tien to hold the position of master of horse, to mobilize a large force to destroy young Van Xuan state. Before strength of Luong's troops, the resistance of the King Ly Nam De continued to face disadvantage. Ly Bi must retreat to area of Khuat Lao cavern, then he handed over authority to the young and talent general Trieu Quang Phuc to continue to be commissioned to lead the resistance.
Under the leadership of Trieu Quang Phuc, the troop of Van Xuan state retreated to build a new base in Da Trach (Man Tro yard, Khoai Chau district, Hung Yen province). Trieu Quang Phuc's troops used guerrilla style, based on the natural terrain, organized the surprise raid on the camp and operations of Luong's troops. This effective fighting style has gradually changed the relationship between our force and the enemy's forces.
In 548, Ly Bi died at Khuat Lao cavern. Trieu Quang Phuc self-proclaimed King (known as Trieu Viet Vuong), continued the construction and defense of the country of Ly Nam De. Through four fighting years (547 – 550), Trieu Quang Phuc's troops fought more and was more strong, Luong's troops was more fought and weaker, the outcome of the war was increasingly good for us and adverse for the enemy.
Luong dynasty at the end of the year 548 – 552 disturbed by Hau Canh. Tran Ba ​​Tien was sent to return the country to pacify Hau Canh's disturbance. Duong Han, subaltern of Tran Ba Tien, was entrusted to manage the works in Giao Chau.
Taking the opportunity of Luong dynasty's weakness and inability in maintaining Giao Chau, the talent generals and excellent troops in Giao Chau also were retreated to China, Trieu Quang Phuc from Da Trach base has launched his troops, opened a series of major attacks into Luong's troops.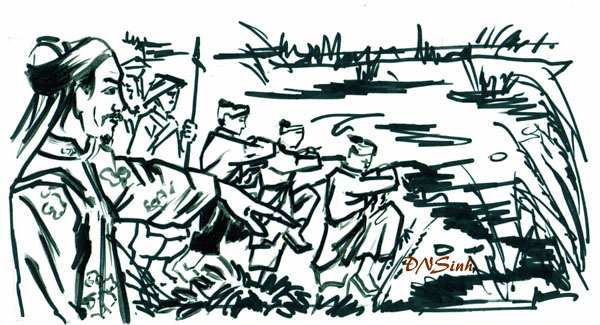 Complete Annals of Dai Viet (Dai Viet su ky toan thu) shows: "The King led his troops to fight. The enemy resisted, but defeated and died. Luong's troops were broken up and run to the North. Our country was peaceful. The King resided Long Bien citadel. Thus in just 8 years (542 – 550) Ly Bi, Trieu Quang Phuc removed invaders from the territory twice, regained autonomy over the country. Van Xuan State experienced in the hardest months and years, seemingly destroyed completely, finally was independent and had condition for further build.
After retreat into Cuu Chan (Thanh Hoa), the troops led by Tran Ba ​​Tien was beaten and had to run up the upper area in the west of Thanh Hoa, located in Da Nang, then proclaimed King Dao Lang Vuong. In 555, Ly Thien Bao, Ly Bi as proclaimed the King to succeed to the throne, dominated their troops. In 557, on the basis of the force has been restored and developed, Ly Phat Tu led his troops from Da Nang cavern to wage war against Trieu Quang Phuc. The stories of the gods recorded that Trieu Quang Phuc was here to resist Ly Phat Tu.
After much inconclusive fights, two parts Trieu and Ly was temporarily reconciled, shared the land each other, used Quan Than ground (Thuong Cat, Ha Cat under Tu Liem, Hanoi) to be a border. Ly Phat Tu was at the Western land (Thai Binh region, Ly dynasty's native land), set up the capital at O Dien citadel (Dai Mo village, Tu Liem, Hanoi), and Trieu Quang Phuc was at the Eastern land, still set up the capital in Long Bien. In more favorable circumstances, Ly Phat Tu actively asked to make alliance with Quang Phuc. Trieu Quang Phuc honestly "thought that Ly Phat Tu was cousin of Tien Nam De, therefore Trieu Quang Phuc did have the heart to refuse", Trieu Quang Phuc had married the daughter, Cao Luong to Nha Nang, Ly Phat Tu's son, to express the friendship together.
In 571, upon completion of preparation, Ly Phat Thu suddenly made a surprise attack on Trieu Quang Phuc. Trieu Quang Phuc was surprised, succumbed the attacks organized by Ly Phat Tu, then  ran away towards Day river and committed suicide at Dai Nha sea gate (Doc Bo, Nghia Hung, Nam Dinh).
Posterity built a temple to honor him at Dai Nha sea gate (Dai Nha have a different name as Dai Ac, then it was changed as Dai An by Ly dynasty), now it is Lieu gate (Day river gate). The temples were mainly concentrated at the coastal region of two provinces as Ninh Binh and Nam Dinh.
In Nam Dinh, He was worshiped in Doc Bo pagoda, Y Yen District. In addition, he was worshiped at another place in Nam Dinh, it is Thien Bien Tu pagoda under Hai Thanh commune, Hai Hau district, Nam Dinh province. In the new land of Nam Dien commune, Nghia Hung district located close to Day river gate, people also built a temple.
Ninh Binh now is the province having the most temples to Trieu Viet Vuong. Kim Son district, Ninh Binh is located at Day river gate has very many temples to Trieu Viet Vuong such as Dinh Chat Thanh (Chat Binh commune, Kim Son commune), Thuong temple (Thuong Kiem commune, Kim Son), Ung Luat temple (Quang Thien, Kim Son), a communal house in Luong Phuong commune, Kim Son.
At the cultural zone of Than Phu sea gate, Yen Lam commune, Yen Mo district, Ninh Binh has Phu Sa communal house that is the national cultural relic to worship Trieu Viet Vuong as tutelary god of the village. Yen Tu commune also has the temple to Trieu Viet Vuong. People at three-way crossroads of the anchors (Hoang Long River, Hoa Lu) also set up a temple to the King.
Yen Khanh is the land under the Seagate, has receded in mainland where there are tens of temples to Trieu Quang Phuc. They located in communes such as: Duyen Phuc temple, Khanh Hong commune, Trieu Viet Vuong temple in Yen Ninh town, Trieu Viet Vuong temple in Khanh Hai commune.