"Cultural Heritage and Sustainable Development Strategy" Conference
On 1 March 2017, the Ministry of Culture, Sports and Tourism and the National Council on Cultural Heritage worked together to organize a scientific conference titled "Cultural Heritage and Sustainable Development Strategy" in order to examine several theoretical and practical issues of sustainable development in the field of cultural heritage.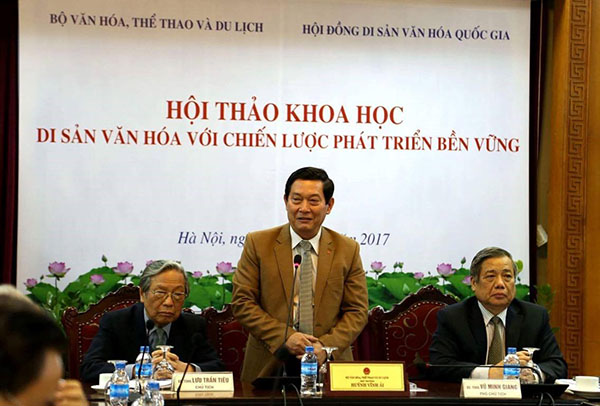 Vice Minister of Culture, Sports and Tourism Huỳnh Vĩnh Ái addressing the conference (photo: Phạm Cao Quý)
The conference was attended by scientists from various agencies, research institutes and representatives of management boards of World Heritage Sites in Vietnam, museums at central and local levels, Department of Culture, Sports and Tourism from Hanoi and Ho Chi Minh City.
The organizing committee received more than 30 papers that discussed such issues as the approaches to sustainable development in cultural heritage, cultural heritage as resources for sustainable development, community participation in the protection and promotion of cultural values, practical experience in cultural heritage preservation, the combination between traditional and modern techniques in the conservation of cultural heritage, climate change and the threats to cultural heritage, among others. Thirteen presentations and six comments were made at the conference, all evolving around the main topic.
In his keynote speech, Prof. Dr. Vũ Minh Giang – Vice Chairman of the National Council on Cultural Heritage emphasized that economy, environment and society are usually considered the three pillars of sustainable development, but in fact these factors alone are not sufficient: the foundation of sustainable development must be culture.
Dr. Nguyễn Thế Hùng – Director of Cultural Heritage Department, added that "Cultural heritage, which includes both tangible and intangible heritage, constitutes an endless pool of resources of the country. Thanks to socio-economic development, the preservation and promotion of cultural heritage values have been given increasing attention. However, given the industrialization and urbanization of an increasingly globalized world, cultural heritage has been significantly impacted, changed, and even destroyed. The question then is how cultural heritage can be made to contribute more to socio-economic development and create momentum for social inclusion to harmoniously address the relation between conservation and development, which means linking conservation to sustainable socio-economic development". There were also proposals about what needs to be prioritized to make sure cultural heritage is preserved in a sustainable manner, such as improving the legal system, raising public awareness about cultural heritage, linking conservation to promotion and exploitation of heritage values through sustainable development of tourism, promulgating and implementing more preferential policies for artisans while paying greater attention to the training of cultural managers so that cultural heritage protection and environmental protection must be interrelated.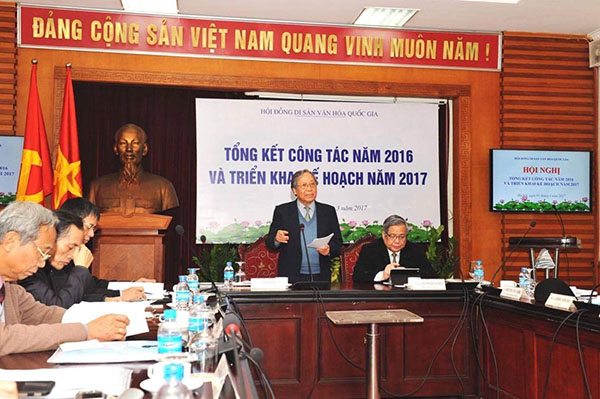 Prof. Dr. Sc. Lưu Trần Tiêu- Chairman of the National Council on Cultural Heritage addressing the conference (Photo by: Phạm Cao Quý)
Vietnam currently has 40 thousand historical-cultural relics and scenic spots that have been inventoried in accordance with the Law on Cultural Heritage. Among these, 85 are national relics of special importance, 3,329 relics of national level, 9,857 relics at provincial or municipal levels. What is noteworthy is the fact that eight most typical sites have been added to UNESCO List of Cultural and Natural Heritage, namely the Complex of Huế Monuments, Hạ Long Bay, Hội An Ancient Town, Mỹ Sơn Sanctuary, Phong Nha – Kẻ Bàng National Park, the Central Sector of the Imperial Citadel of Thăng Long – Hà Nội, Thành Nhà Hồ, Tràng An Landscape Complex, etc. Vietnam is also home to eight natural reserves that have been added to UNESCO List of Bio Reserves, namely the Cần Giờ Wetland, Cát Tiên National Park, Cát Bà islands, Red River Delta, the coastal areas and the islands in Kiên Giang, the west of Nghệ An, Cà Mau Horn, Chàm island, and Đồng Văn Karst Plateau.
There are as many as 154 museums, including 123 public and 31 non-public museums, where nearly three million valuable documents and objects are stored and exhibited.
Vietnam is also home to a variety of intangible cultural heritage elements. According to statistics, we have so far kept record of 59,279 intangible cultural heritage elements, 202 of which have been added to the National List of Intangible Cultural Heritage and 11 have been inscribed on UNESCO Representative List of Intangible Cultural Heritage of Humanity and Intangible Cultural Heritage in Need of Urgent Safeguarding. UNESCO has also inscribed six documentary heritage elements as part of the Memory of the World (MOW) Programme, namely the woodblocks of the Nguyễn Dynasty, doctoral stelae at the Temple of Literature, woodblocks of Vĩnh Nghiêm Pagoda, imperial records of the Nguyễn Dynasty, poetry on imperial palaces of the Nguyễn Dynasty, woodblocks of Phúc Giang School.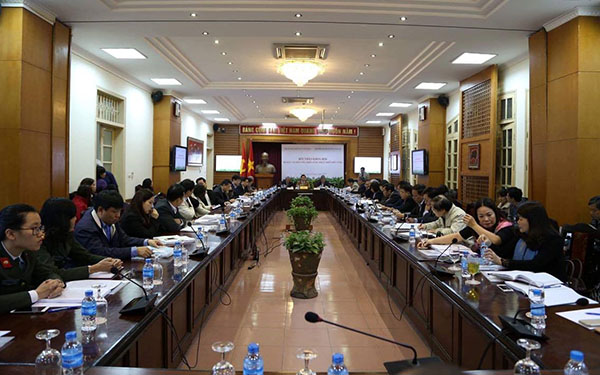 The conference was attended by a large number of researchers and scientists (Photo: Phạm Cao Quý)
In fact, it is by no means an easy task to manage such a huge trove of heritage. One problem is the lack of budget to maintain and restitute the dilapidated heritage sites. That is not to mention the unlawful restoration and construction work that is done on heritage sites, making them distorted and exotic looking. Many irritating and chaotic festivals have remained unchecked. Environmental pollution and overcharging of visitors are on the increase. Many intangible cultural heritage items have sunk into oblivion while the illegal possession and trafficking of antiques are taking place on a regular basis.
To protect and promote the values of cultural heritage in a sustainable manner, concerted efforts need to be made by different levels of government, different sectors, and particularly the local community. At the heart of heritage conservation is the maintenance of its authenticity and vitality. Heritage conservation and promotion must be geared towards the community and engage the local people in the common tasks of preserving, transmitting and protecting the heritage.
Kim Yến
Thăng Long – Hà Nội Heritage Conservation Centre